For comprehensive video, sound extracts, and MC notes from The 2005 Melbourne Festival performances of
Pannikin,
click here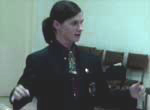 Barrier Industrial Unions Band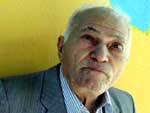 Andreas Hadjisavvas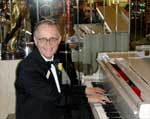 Michael Hope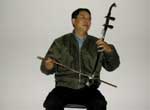 Shen Pangeng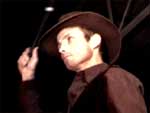 Ashley Brophy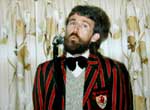 Michael A. Greene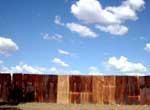 White Fella Jump Up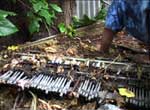 Ross Bolleter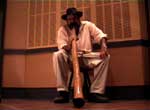 Mark Atkins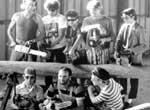 West Australian Chain Saw Orchestra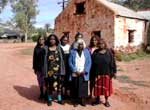 Ntaria Aboriginal Women's Choir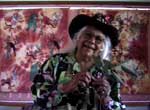 Roseina Boston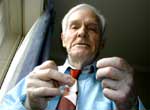 Leslie Clark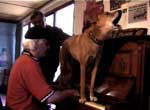 Dinky The Singing Dingo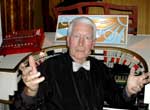 Ron West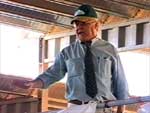 John Traeger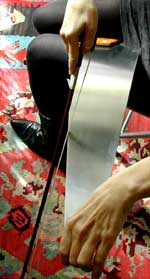 Sydney Saw Orchestra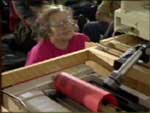 Sue Harding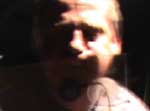 Lucas Abela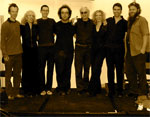 The Pannikin Orchestra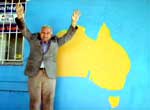 download the
pannikin
promotional quicktime
video featuring
the invited
guest artists 11.9 MB



the music that you are
hearing on this page
is the 'Thankyou
Very Much Song' of
Andreas Hadjisavvas
thank you Andreas!

For music played on gumleaf,
fingers, whips, er-hu,
a dingo's throat, theatre organ,
amplified glass, chain saws,
dot matrix printer, department
store piano, ruined piano,
brass band, and assorted
sets of vocal chords,
- download the video



Pannikin

presents an alternative musical portrait of the fifth continent.



Pannikin

is a major evening's sonic experience, a suite of integrated compositions for chamber orchestra with a selection of 18 invited guest acts either performing live or via video.



Pannikin

pays tribute to music that mainstream Australia usually doesn't visit - from Leslie Clark who plays tunes using only his fingers to Lucas Abela who breaks panes of glass by screaming into them at levels of high decibel feedback. An inspirational grassroots, do-it-yourself tradition is revealed, one that stretches back through Vaudeville to the beginnings of white settlement, and via the Aboriginal tradition to the beginnings of music itself. The instrumentation of the 'small town turn of the 20th century orchestra' points significantly back to a time when all music was live.



Pannikin

, however, does not dwell in the past. Using state of the art digital technology to manipulate both sound and image, Pannikin is a challenging, often confronting, and sometimes humorous new music experience.




T

he Barrier Industrial Unions' Band is the sole remaining brass band in the City of Broken Hill. At various times Broken Hill had 13 bands. In 1912 the bandsmen of Broken Hill were so choked about the Titanic going down while the ship band played on, they errected a monument to the ill-fated band in the town park. The sound of the brass band is the music of social solidarity, particularly in hard times. Originally, the brass band was an all male affair. These days, however, the women outnumber the men, and the band is currently under its first female director Fran Sette.
hear more




T

he 'Thank You Very Much' song is the life statement of Andreas Hadjisavvas. He might have sung other songs, but this one he has been performing almost non-stop for twenty seven years. Because he has needed to sing it so many times over the years, Andreas has utilised technological advantage in his art. He has recorded the song onto cassette, then copied it and copied it, making in effect multiple tape loops. Customers to his corner shop would often be confronted by a 'performance' of up to four cassette machines randomly playing back his vocals. As to the meaning of his song - act of faith, ironic statement, first words of English learnt - the artist won't tell.
hear more




O

n passing through shopping heaven's gates at a well known department store in Sydney, one is met not by the usual electronic Muzak (pulsing at the scientifically proven quick, buy, buy, move it along there, beat) but by an altogether other acoustic. Piano music and piano music played by (knock me down dead) a real piano player - the extraordinary Michael Hope. What's going on here? Is this a new exoticism of the twenty-first century? The professional piano player was once the most sought after breed of muso. A whole host of employment opportunities existed, from the usual weddings to the upmarket piano bar or RSL club, from studio session work to the regular restaurant gig. Times have changed and the real musician has been replaced almost totally by his (and it mostly was his) playback replica - a delight for French academic wankers like Baudrillard but a disaster for any musician hoping to earn a living. Very few people seem to have noticed this phenomena; certainly I have never read a complaint in the letters column of any newspaper from an outraged member of the public as to "where has all the live music gone?" hear more




L

ike twenty five percent of Australians, Shen Pangeng was not born in Australia; he hails originally from Suzhou, China. But since 1989, when he arrived here, he has been on a passionate mission to popularise the traditional Chinese two string er-hu in this country. Currently he is working at Penleigh and Essendon Grammar School as conductor of the PEGS Chinese Orchestra. No one can give me any serious musicological argument as to why the bow is attached between the strings on the er-hu (as opposed to being kept separate like the violin bow), except for the obvious - you know where to find the bow when you get the er-hu out for a play.
hear more




T

he whip must be one of the most underated musical instruments ever discovered by man. Compared to the bow which made the transition from weapon to instrument of music long ago, the whip still awaits its time in the sonic spotlight - as indeed do his lasso routines. Ashley Brophy has got amazing musical chops. He has developed a double whipping technique that causes complex rhythms and acoustic phenomena such as difference tones and phasing to take place. The youngest of a large show business family, Ashley's parents ran circus sideshows, his oldest sister handled and demonstrated live venomous snakes when she was 16, one of his brothers runs a Moscow circus, and another runs a boxing troupe and an outback pub in Queensland.
see and hear more




M

ichael A. Greene is the only person I have ever come across who can whistle and hum two different tunes at the same time, and not only that, he can perform canons, inverted canons, canons in augmentation, and heaps of other two part counterpoint tricks at the same time... often bringing his audiences to a state of hysteria. He is one of the great amateur musicians in Australia. On a certain ABC music show, his abilities were pooh-poohed by a well known composer. Find me one composer in Australia (or anywhere for that matter) with the quality of Michael's aural abilities.
hear more




C

onsider for a moment, possibly our most utilised building material of the last 150 years - Galvanised Corrugated Iron. Where would we be without it? Henry Robinson Palmer is credited with inventing 'the corrugating iron' in London, 1828. But it wasn't until the 1850s that it became the roofing material of choice in Australia, replacing bark, shingles, and thatch. Simply, the cheapest, strongest, lightest, most practical material around and one of the world's great versatile percussion instruments - gong, smash cymbal, ride cymbal, high hat, bass drum, washboard, rattle, and thunder clap. A sheet or two of the stuff waiting in most backyards to morph into a wall of sound.
hear more




I

n 1888 a French juror named Oscar Comettant estimated that there were 700,000 pianos already imported into Australia - that's an awful lot of Johannas for a country with only a few million folks. Ross Bolleter specialises in playing ruined pianos, from the casually neglected to the absolutely rooted - often the result of the interface between this bastion of European culture and the rigours of the Australian environment. The first piano into Alice Springs arrived on the back of a camel (I didn't make that up).
hear more




M

ark Atkins is one of the hottest didgeridoo players around. He started off his career playing drums around Murchison in W.A., but his life was transformed when his uncle Nanyura Watiri of the Yamitji appeared at the funeral of Mark's auntie and thrust a yidaki into his hands. "Play it," said the uncle, so he did, and he's been playing all over the world ever since. Charlie McMahon invented the didgeribone, a cross between the didgeridoo and the trombone, which is capable of key modulation. Mark features this innovative instrument in his Pannikin contribution.
hear more




P

annikin will feature a tribute to WACO. The West Australian Chainsaw Orchestra has the most identifiable sound of any orchestra in Australia...let's face it, you would be hard pressed to tell any difference between the MSO and the SSO with your eyes shut. The WACO's sound has been described by some as "emotionally sustaining;" others notice the "bark of its swaying virtuosi". The orchestra has modernised; gone is its standard repetoire of Beethoven's Pastoral Symphony and Vivaldi's Four Seasons; they are now cutting into the new markets of cross over. Their hit single, "Hey Mister Woodman, Spare That Tree," just re-released on the Melba label, has brought them the inevitable international critical acclaim and invitations to the concert halls of high culture.
hear more




W

hatever the cultural mayhem caused by white settlement in the Northern Territory, the vocal timbre of Arrente women singing Lutheran hymns is a glorious, powerful, and unique hybrid sound found nowhere else in the world. The Aboriginal vocal sound, through the use of the Arrente language, is there at the core of this music. The rich upper partials of the voices bring out the simple harmonies of the hymns in a way not normally heard.

hear more




A

untie Roseina Boston is a Gumbayungirr elder from the Nambucca Valley. Her Aboriginal name is Wanangaa, which was given to her by an Aboriginal elder and means "stop," as Auntie Roseina was always running about everywhere. She was born under a lantana bush on Stewart Island in 1935. Her grandfather's brother Uncle George Possum Davis was well-known for his Burnt Bridge Gumleaf Band of the 1920s and 1930s. Roseina's husband Harry will join her in a session of bird mimicry and a rendition of the "Goori Flag Song."
hear more




L

eslie Clark, 'the man who plays music on his fingers', used to be a familiar sight around Melbourne, selling his finger music cassettes for $2 and (being something of a sage and a mystic) giving the proceeds to charity. Leslie is the originator of a unique form of music making. With the range of an octave, he can pitch the notes of many a song just by clicking his fingers. Now confined to a nursing home and suffering from advanced arthritis, he is still able to give us a tune.

hear more




S

o Jim Cotterill's daughters started to learn the piano, and it wasn't long before Dinky (their dingo pup) showed interest in their musical studies. He would jump up onto the keyboard and exercise his melodic chops. Due to the design of their larynx, dingos have a pathetic excuse for a bark. Fortunately, Dinky was quick to realise that his artistic expression and future vocation could be realised by an interspecies collaboration. Soon Dinky's well modulated countertenor attracted considerable attention from the passing tourist trade. Dinky, despite these trying times for live music, often works five nights a week; he is more in demand than any professional muso that I know.

hear more




R

on West is the silent movie muso incarnate, knows all the tunes, how to work them into the film plot, how to sabotage them, how to lead the audience into a sonic trap. He's got the gig. Actually he is the gig, running the only fully operational silent movie house in the world - that's the Majestic Theatre in Pomona, Queensland which has been going since 1921. Every Thursday you can catch Ron playing theatre organ to accompany 'The Son Of The Sheik' staring Rudolf Valentino - it's been running continuously for eighteen years!
hear more




H

ere's auctioneer John Traeger talking about Australia's very own brand of sprechgesang: "Compare Queensland auctioneering to Victoria or South Australia, it's like chalk and cheese, it's the same job within a few cents but the way they sound, the different rhythms, the nasal thing, language is different too, they call it the high bone in Dubbo but we say between the pins in Adelaide, yeah it's an aural tradition alright, look Brian Leslie auctions dairy cattle in the eastern states and he is actually singing, it's like he has a melody."
hear more




K

ind of difficult to start a bowed saw orchestra these days, as no one in Australia makes serious quality hand saws anymore - they don't even make them in China (our government is making sure that everything else is). But a supplier was eventually found in the foothills of California, and so (at no extra expense to the punters) the ethereal strains of massed bowed saws will again be heard in this country.
hear more




P

eople might think that listening to a bank of matrix printers doing their stuff is about as interesting as watching paint dry. They would be very wrong. Sue Harding has developed an intense form of music making full of hypnotic, rhythmic, and tonal intrigue. So before you throw that old printer out, give Sue a call.
hear more




L

ucas Abela started off as a DJ but soon became bored spinning other people's music, so he found new and extreme ways to play turntables, from stabbing vinyl with Freddy Krueger style 'stylus gloves' to dueling in the middle of a crowded room with Samurai sword styli (ending in hospitalisation after one run at his high powered turntables). More recently he has adapted his 'humming bar'(screaming vocal feedback device) for attachment to plate glass. Feedback potential has increased, danger to life and limb also increased, visual excitement increased, volume remains about the same - very, very loud.
hear more





T

he above guests will be accompanied, augmented, cut up, interrupted, ignored, or mixed together by THE PANNIKIN ORCHESTRA.



Clayton Thomas

Double Bass, Saw



Darren Moore

Percussion, Wind Machine, Saw



Anthony Pateras

Piano, Toy Piano, Saw



Hollis Taylor

Violin, Stroh Violin, Saw



Erkki Veltheim

Viola, Saw



Sally Maer

Cello, Vocal, Saw



Robin Fox

Live and Recorded Video/Sound Processing, Saw



Jon Rose

Composer, Conductor, Virtual Organist, Saw





P

annikin can be experienced in a two hour special at The Arts Centre Fairfax Studio, Melbourne on 7,8 & 9 October 2005 starting at 20.00 and at The Cube 37, Frankston Arts Centre on 13 &14 October at 20.00



T

ickets at 1 300 136 166 or at The Melbourne Festival




P

annikin is supported by The Melbourne Festival, The Music Board of The Australia Council, and The Robert Salzer Foundation.