the violins of warmun
the annual Ngalangangpum experience
In June 2018, as part of Tura New Music's Remote Residency Program, Dr. Hollis Taylor and Jon Rose created a 3 week violin experience with the students of Ngalangangpum School, Warmun, in the remote Kimberley of Australia. Thought provoking to consider, but this project could only have been viable with the recent economic rise of China. 22 violins were sourced at just over $40 Australian each - including postage. You can't buy a set of decent strings for that money.
Wild Violins youtube video 4'55""here
Considering the cultural baggage that comes with the instrument, some may consider that this was an ill-conceived venture. The results proved otherwise. Anyway, we weren't there to torture the students and ourselves with 'Twinkle Twinkle Little Star' or the 'Hallelujah Chorus'. We were in residence to offer a musical possibility within a limited time frame. Violins are notoriously difficult to learn, let alone in 3 weeks, so our approach was: 1. Let's reference the sounds of the wild life that lives around Warmun. 2. Let's use hip hop, the current sonic lingua franca of the young in indigenous communities in the Kimberley. 3. Let's work mainly with the bow (a weapon) and tune the violins scordatura (Gm, DM7, A microtonal) to make a bold, raw and inclusive sound.
The sense of hierarchy and time function very differently in indigenous communities. The school does have a timetable, but often other activities will take precedence - the agenda and preferences can switch to family visits, a hunting or fishing trip, supporting the local footie team on an away game. We get used to the ever-changeable flow, and each day brings a new set of cards with which we play. It is rare to have the same set of students on consecutive days.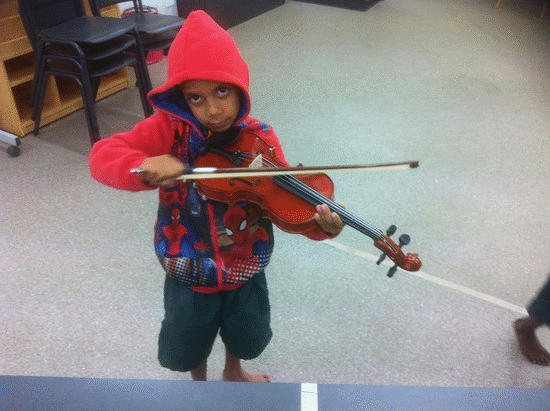 Warmun is an extraordinary place. Last year I was working on converting a car wreck into a musical instrument. In the interim, the wreck also became a canvas for the community's visual expression (along with the school, the art gallery is another jewel in the town infrastructure). Here are some extracts from a diary that I kept:
Don't know who invented colour coding, but he deserves a Warmun medal. It might even be up there just below the invention of the wheel. Each 1/2 size violin (red sticker), 3/4 size violin (yellow sticker), or full-sized violin (blue sticker) and corresponding bow are now colour-coded. After the mayhem of each lesson, many kids delight in sorting out which bow, violin, and violin case belong together.
I rarely go past the office without some kid being bandaged up after a tussle with gravity. My favourite teaching command comes from one teacher, who knows how to handle class control (which in seconds can spin somewhere else). 'Freeze!' She yells and they do - just like in the movies. It reminds me of another teacher's cyclone whistle with which he controlled the boys playing the Wreck last year. A deafening blast also caused a 'freeze' moment in which the kids actually froze - time to gain the upper hand once more.
'Heli-cop-ter land-ing' is the rhythm of success on day 3 (you can hear it in the video). We sing it, we clap it, we bow it, and we articulate it with col legno too. And, indeed, there is a ridiculous helicopter landing catering for cashed-up tourists dumped there right next to Warmun. We are hoping that our Gija language skills will improve next time so we can replace English with Gija phrases. The kids rate the snake glissando concept - fast snake, slow snake, wiggly snake. Ngam-ar-rany = snake. The violin is built for two things that are comparatively easy, technically speaking - glissando and tremolo. Put together they are a win-win.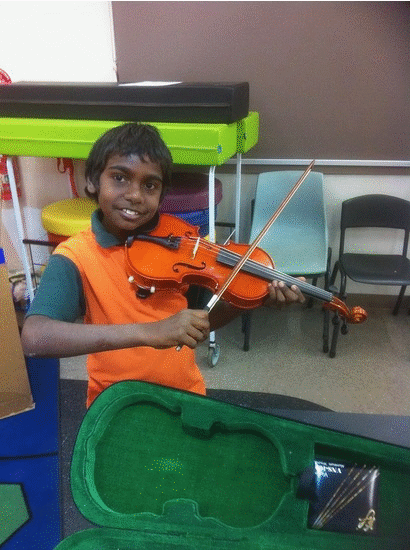 Moved into the 'overflow' accommodation today. The plumbing has been fixed but no one told the large green frog living in the toilet (code name Graham). I'm trying to find him some new scene to enjoy by flushing and banging the toilet lid. The flushing he seems to enjoy as a fresh cool-me-down shower. Will have to come up with another solution. Outside on the deck are a pile of books, including some Margaret Atwood novels, Easy Way to Stop Smoking, And The Weak Suffer What They Must by Yanis Varoufakis, various self-help books, and A Guide To Timor Leste. This waiting room collection is also enjoyed by a disturbed water dragon who springs out from behind All the Light We Cannot See by Anthony Doerr and shoots under the house.
Just reporting that life with Graham may be less than reciprocal, but we have reached an accommodation of sorts. 1. We jump up and down a few times to warn him that something is coming his way; 2. we rattle the toilet lid; 3. we peer inside to see if he is visible above or below the water line; 4. if so, we rattle the lid a few more times - this usually jogs his memory, and he swims backwards into the U-bend. I'm sure by now he knows what happens next as a shitload of trouble flushes by him while he clings on against the tide.
In the senior class, the separation of the sexes and the age groups is a problem with an all-in performance as we have planned. It's culturally too strange and too far for them. If we get the chance to continue this project next year, we will have them separated, as they prefer. Some kids arrive in class as if in a walking dream, unreachable. Are they just tired, sick, or somewhere else entirely? The next day they have swung to the opposite state, full of energy and switched on.
The sun has long set. Into the shadows with balletic grace step four, five, no - eleven wild horses (brumbies in Australian vernacular): entering stage right and then gradually gliding across the near landscape with the hills claret and sky still pink in the afterglow. I guess it should have been kangaroos, but white men been here and left their beasts of burden to the best and worst of the Australian outback. Adaptable, elegant in their phrasing, 'wild horses' does them no justice in the naming, their sauntering gait against the sky.
And Thanks to: Tura New Music, The 2018 Regional Residency Program is supported by Healthway promoting the Act-Belong-Commit message, The Ian Potter Foundation, the Rowley Foundation, and The Staff and students at Ngalangangpum School.
© Jon Rose 2018