Corrugations
New Music from Alice Springs (Mparntwe)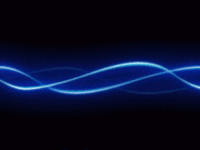 CORRUGATIONS is a series of new, improvised, and experimental music happening at Alice Springs (Mparntwe) in the centre of Australia.
CORRUGATIONS boldly proposes that a town like Alice become part of a nationwide new music network by instigating a modest set of activities that could become a paradigm of 'how to create a new music culture and audience' in regional towns and the outback. My copious adventures with outback communities demonstrate that the audience is curious and engages when music (or indeed any cultural activity) is presented - no matter if it is unfamiliar.
I am positing an alternative to current cultural trends derived from our own cultural histories; a model that doesn't require the population base of a massive town to present new and innovative music, on the contrary - small is good and often more resilient; that despite the Internet, music at its most meaningful tends to be connected to place (as I wrote in my book Music of Place: Reclaiming a Practice, Platform Papers, 35, 2013); that the uncovering and exploration of first principles can lead to authenticity, relevance, and a depth of experience unlikely to be found in the international pot of second hand dipping.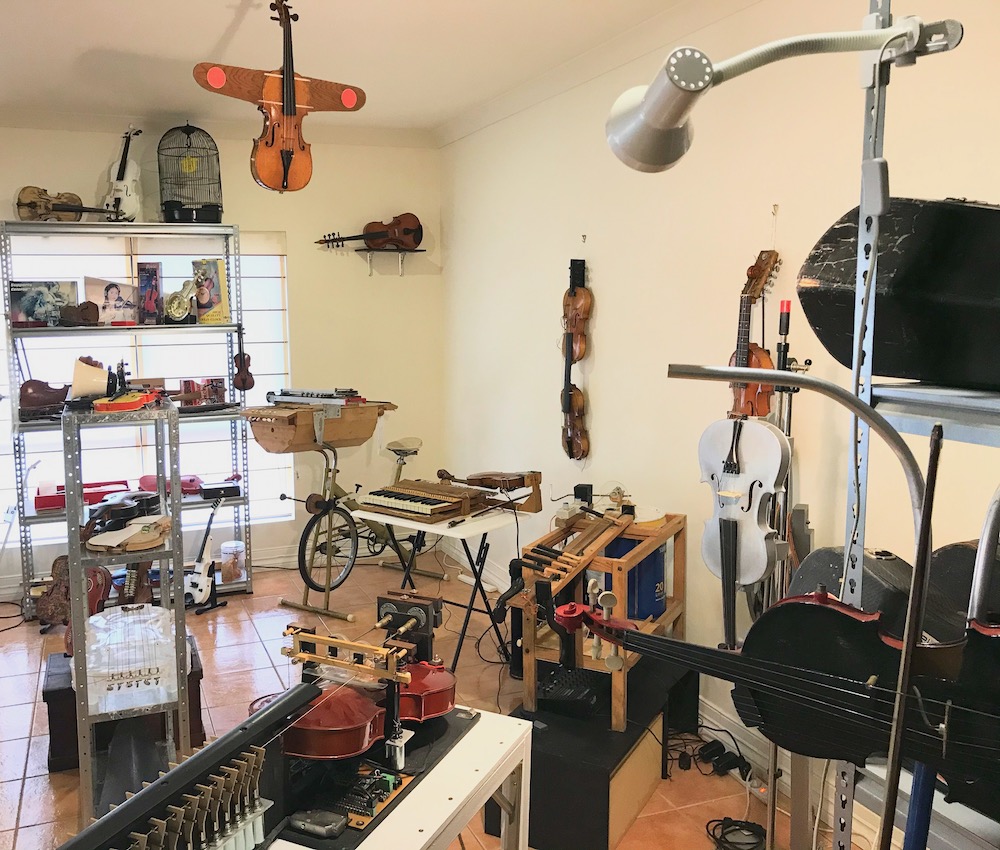 Your hosts at CORRUGATIONS are Jon Rose (violins and experimental string instruments) and Hollis Taylor (violin and pied butcherbird recordings). For legal reasons, these get-togethers are by invitation only and not public concerts. If you wish to attend, please send an e-mail to be added to our mailing list; then, we will supply details of where and when for this and all future events.
The music takes place at the home and backyard of Jon and Hollis, which houses a unique musical instrument museum (The Rosenberg Museum). Entrance is free but donations are encouraged.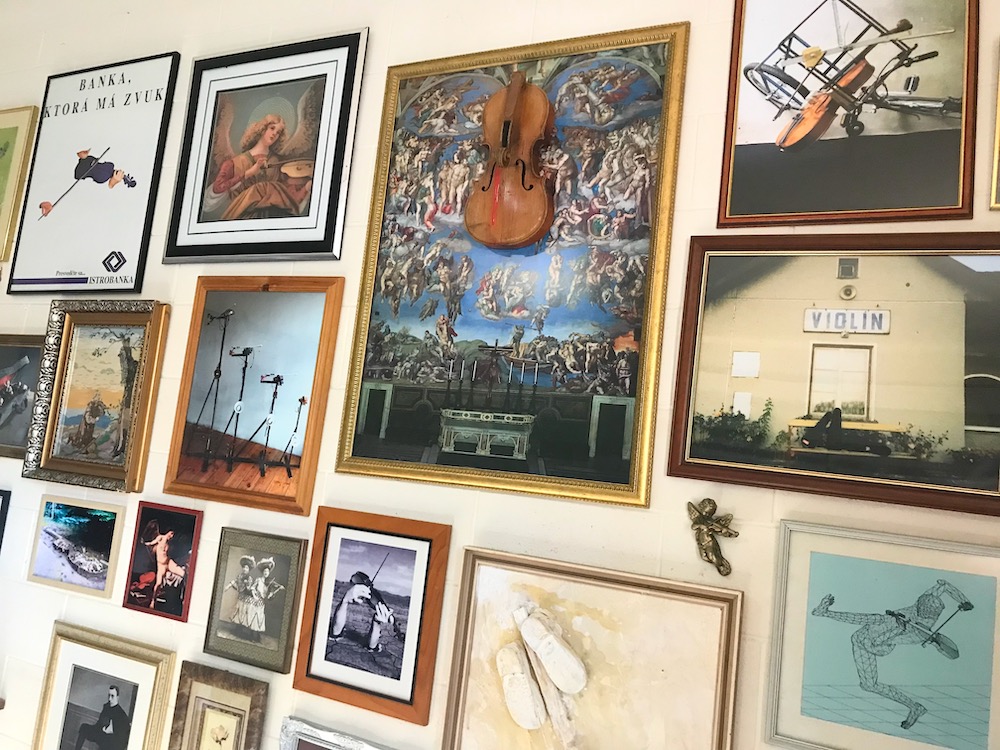 The first Corrugations took place on Thursday, 2 September 2021 @ 19.00 (doors were open @ 18.30 for viewing of exhibits) and focused on, along with our hosts, special guest Luiz Gubeissi on double bass and some robots and automatons from the collection.
Extracts from the first performances can be heard/seen here.
Corrugations 2 (7/10/21) illuminated the first keyolin performance and the presentation of a brand new painted violin by local artist Kathleen Buzzacott.
Corrugations 3 (11/11/21) presented a lecture from Dr. Hollis Taylor on birdsong 'A Taste for the Beautiful', The Cretan Lyra played by Pin Rada, and The Wheeling Violin performed by Jon Rose.
Long pause for Covid!
Corrugations 4 (2/10/22) featured Russell Goldflam (clarinet) and Marg Collins (Accordion), Luiz Gubeissi and Jon Rose playing the new Box Bass and accompanying The Monolith (new 4 sided Aeolian harp, and concluding with Hollis Taylor's fiddle tune transcriptions.
Corrugations 5 (13/11/22) starred a galaxy of local string players - Glenyss Rae (violin), Ed Nicholson (viola), Harshini Bartlett (cello), Luiz Gubeissi (double bass), Ella Newham-Perry (violin), and Hollis Taylor (violin) in compositions by Hollis Taylor and a conducted improvisation by Jon Rose. The amplified musical fence got another workout and the robots in the Violin Museum were demonstrated on request.
Corrugations 6 (11/12/22) spotlighted Dutch violinist Emma Roijackers, one of the finest from the new generation of violinists currently exciting audiences in Europe. Emma played music never heard live in Alice Springs, so in this respect the Sibelius Concerto, Ysaÿe Sonata, and Bartók Violin Duos (with Hollis Taylor) remain new music. Our illustrious guest also premiered a new pied butcherbird composition, Queen's Road, written by Hollis and her father Jon Rose (who also demonstrated the new rotating Australia Post mailing tube instrument in the violin museum).
Corrugations 7 (22/1/23) unveiled our first experimental music inter-state guests - Brisbane's beguiling Clocked Out, featuring their very particular approach to keyboards with Erik Griswold, and percussion with Vanessa Tomlinson (using the Museum's extensive collection of sounding devices).
Corrugations 8 (18/6/23) brought Australia's leading commissioner of new music to Mparntwe, none other than Ensemble Offspring, with Claire Edwardes (percussion), Lamorna Nightingale (flutes), and Jason Noble (clarinets) - who also played the (aging and highly random) interactive yard broom with great aplomb.
Corrugations 9 (6/8/23) - flying in from Berlin, our first international guests Meinrad Kneer (double bass) and Suzanne Fröhlich (recorders) played our concert series and recorded an album highlighting Hollis' birdsong research and compositions. Hollis joined for performances of her own pieces, followed by Luiz Gunbeissi and Jon Rose for some hardcore impro with Meinrad.